//ws-eu.amazon-adsystem.com/widgets/q?ServiceVersion=20070822&OneJS=1&Operation=GetAdHtml&MarketPlace=GB&source=ac&ref=tf_til&ad_type=product_link&tracking_id=bearsbearsbea-21&marketplace=amazon&region=GB&placement=1846276322&asins=1846276322&linkId=a48463274be0c5fa62d5956f6d3e5e28&show_border=false&link_opens_in_new_window=true&price_color=333333&title_color=0066c0&bg_color=ffffff
The bears in this trio of magical novellas are based on real animals, including the much-loved Knut, born in a Berlin zoo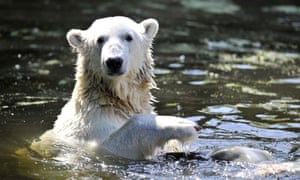 The recent winner of the inaugural Warwick prize for women in translation, Tawada's story, translated by Susan Bernofsky, consists of three novellas, originally written in German. Each explores one generation of a real-life family tree, belonging to Knut, the polar bear born in a Berlin zoo in 2006 who, while he was a baby, was adored by the world.
The first novella portrays the life of Knut's Russian-born grandmother. The second that of his mother, Tosca, a circus performer. The third is Knut's own story of the powerful bond he formed with his keeper, only to be separated from him when the bear's size and power began to pose a danger.
In spite of links to the real histories of the three animals, especially Knut, whose short life was obsessively recorded, these dislocated and dreamlike fictions disturb expectations. It's not so much that the bears can interact with humans, read newspapers and, in the case of Knut's grandmother, write an autobiography, but that these magical scenarios never allow us to forget that these are the imaginings of a writer who can change direction on a whim. That process is the book's deeper subject.
• Memoirs of a Polar Bear is published by Granta.
Review based on: https://www.theguardian.com/books/2017/dec/21/memoirs-polar-bear-yoko-tawada-review
//ws-eu.amazon-adsystem.com/widgets/q?ServiceVersion=20070822&OneJS=1&Operation=GetAdHtml&MarketPlace=GB&source=ac&ref=tf_til&ad_type=product_link&tracking_id=bearsbearsbea-21&marketplace=amazon&region=GB&placement=1846276322&asins=1846276322&linkId=7116f84787da0f8c30587b1533648e19&show_border=false&link_opens_in_new_window=false&price_color=333333&title_color=0066c0&bg_color=ffffff